Customer Approach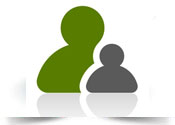 All of our employees are highly committed to the MatrixUniversal.
It is obvious that they know their own products to the core.
They are also familiar with their individual customers' line of business.

They offer the know-how the customers need to make their ambitions become reality.
Customer care

The direct contact that takes place between MatrixUniversal and its customers forms the basis for our customer care. For easy and clear-cut communication, MatrixUniversal opts resolutely for a focused '1 on 2 communication'

Quality thinking

MatrixUniversal tailors its service to your needs and requirements. By contributing quality and effective ideas, MAtrixUniversal aims to find the most favourable results for you, solutions that are tailor-made for your organisation. This approach calls for a lot of flexibility on the part of MatrixUniversal's workers. This is why they are equipped with the most modern means of communication, so you can appeal to them at all times. They are ready and willing to offer expert assistance.